School Holiday Art Workshops - Sept/Oct 2022
These Holidays it's a mixed bag of choices!
You can choose from a selection of art workshops or Personalised Sessions
The times slots are for private groups, family creative time or a group of friends (You choose who is in your class)
To book your place in the Studio please fill out the form(s) below.
Select your time slot and workshop choice.
Your place is only secured once full payment is received.
Payment can be made either via Direct deposit or Paypal, please note in the form below which one you would prefer.
Cancellations are only transferable to another class, event or product on this website; and must be made within 48 hours.
Students only need to bring their own water bottle.
Thank you
I look forward to the Arty Fun!
Jas x
Available Time Slots & Sessions -
Week 1 of Sept/Oct Holidays - 19th-23rd
Monday 19th - (Price dependent on workshop selected)
9:00 - 11:00am - Booked

12:00 - 2:00pm - Booked

3:00 - 5:00pm - Available
Tuesday 20th - Mandala Markings Canvas Painting - $65pp
9:30 - 11:30am - Sold Out
Wednesday 21st -Tote Bags (HTV draw & digital design) - $65pp
9:30 - 11:30am - 4 spots available
Thursday 22nd - (Price dependent on workshop selected)
9:00 - 11:00am - Booked

12:00 -2:00pm - Available

3:00 - 5:00pm - Booked
Friday 23rd - Timber Cut Outs - (Pencils, Paintbrushes) $55pp
9:30 - 11:30am - Full
Week 2 of Sept/Oct - 26th - 28th
Monday 26th - (Price dependent on workshop selected)
9:00 - 11:00am - Booked

12:00 - 2:00pm - Booked

3:00 - 5:00pm - Booked
Tuesday 27th - Timber Cut Outs (Ice creams & Icy poles) $55pp
9:30 - 11:30am - 3 spots available
Wednesday 28th - Sticker Sheet $55pp
9:30 - 11:30am - 2 spots available
For the time slots these are the workshops available,
You can choose from a selection of Arty Options:
Spirit Animal - $65pp 2 hrs
Timber Canvas Art - $55pp 2hrs
Digital Art Lesson - $55pp 1 2 hrs
Galaxy Mandalas - $65pp 2hrs
Polymer Clay Art - $55pp 2hrs
Water Colour Magic - $65pp 2 hrs
Hand drawn Sticker Making - $55 1 2hrs
UV Resin Trinkets & Jewellery - $65 2hrs (age limit 10-17yrs)
Shrinky Dinks Keyrings - $55 2hrs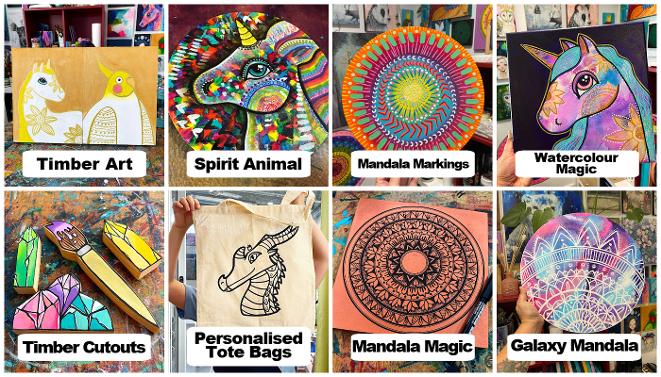 School Holiday Art Sessions Sept/Oct 2022